A New Community Event Approaches!
Hey, everyone! Stanpai here.
The ongoing Newgrounds Renaissance has been a chance for Newgrounds users new and old to discover their creative side and, more importantly, that this website is still a home for creatives to make their mark on the internet. With the recent success of events like Pico Day and the Art Office Hours, I want to keep that momentum going with a brand new virtual event.
Introducing the Newgrounds Summer Festival!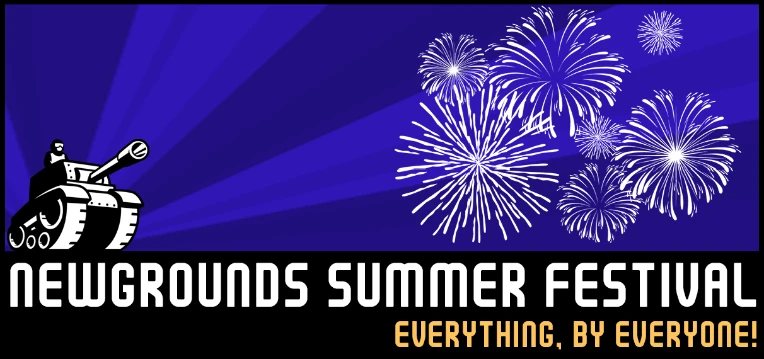 What is it?
The Newgrounds Summer Festival is a virtual event where attendees will be able to watch panels covering the various kinds of content available on Newgrounds, learn about Newgrounds history and culture, and build up a greater relationship with the community. This means learning from your peers and of course, building valuable connections with your fellow Newgrounds users.
How does it work?
Selected panelists will be given their own timeslot to present their panels just like at a normal convention. In addition, there will also be spaces for attendees to network and share their work. The event will be coordinated via Discord, with SFW panels being broadcast via livestream on the Newgrounds Festivals YouTube Channel.
What kind of panels are planned?
The main goal is to feature panels that cover any of the main four following categories:
-Animation
-Game Development
-Audio
-Art
In addition, I would also love to see panels that cover Newgrounds Culture & History. If you have a cool idea for a panel that covers content like this, or something you think is worth hosting a panel about, please do not hesitate to apply! Even if your panel idea doesn't cover one of the things listed above, that doesn't mean it can't still be put into the schedule!
Why are you doing this?
Newgrounds has always been a home to me and countless others over the years. Though many of us have come and gone, we always end up back on the portal eventually. With this new wave of activity and interest in Newgrounds, there hasn't been a better time to continue building up the most powerful site on the internet.
As for why me in particular, I have been working as convention & conference staff at events throughout the Southeast US since around 2014, and have been hosting panels at conventions for even longer. I know how these things are operated and I know how to make sure this event will go smoothly. I want to use my experience in this field to make a meaningful event that gives back to the community that helped raise me.
When is it?
I'm tentatively looking at the weekend of June 25th, giving us a lead-time of a month and a half to gather panelists and prepare a core team to help make it happen. This date is not yet set in stone, so please stay tuned for updates in the near future.
How can I get involved?
If you would like to host a panel, please fill out the Panel Application Form.
If you would like to volunteer as event staff, please fill out the Staff Application Form.
If you'd like to contribute creative assets for the event, such as promotional art or otherwise, please contact me directly here on Newgrounds. Be sure to include some examples of your work!
If you upload something to the portal related to the event, tag it with #NGSummerFest2021
If you are interested in hosting some sort of contest or offering prize-support as part of the NGSF, please feel free to reach out via DM.
If you have any additional ideas or comments you'd like to share, please feel free to leave them in the forum thread or shoot me a DM!
Some important details:
Panelists must be 18 years of age or older.
Staff volunteers must be 18 years of age or older.
Due to the adult nature of Newgrounds humor and culture (see: Tankmen), direct access to the event's server will require age verification. SFW panels may be viewed by anyone via the external livestream. Thank you for your understanding.
Just as Newgrounds is all about Everything by Everyone, so too is this event only possible through everyone's shared efforts. I'm absolutely thrilled about this event and can't wait to see the panels people will be submitting!
That's all for now! Please be sure to leave your thoughts, comments and so on in the replies below or on the forum post!
-Stanpai