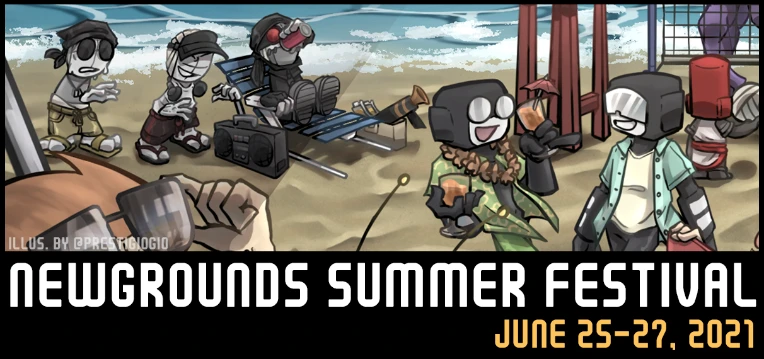 Hello my friends! Stanpai here with another major update for the Newgrounds Summer Festival!
First and foremost: if you don't know what the Newgrounds Summer Festival is, be sure to read Update #1.
Attendance & Registration
There are two ways to attend the Newgrounds Summer Fest. The first way is by registering as an attendee so you can gain access to the event Discord. In order to register for the event, you must be 18 years of age or older. We are accepting various forms of ID in order to confirm attendees' ages. Should you want to censor personal information such as your home address, that is completely fine. The reason we are doing this age check is to ensure that all attendees are old enough to be present for the full gamut of our programming, which includes 18+ content.
The second way to attend the event is through the public YouTube channel, which will be streaming all panels taking place outside of our 18+ programming block. The livestream is available for all audiences.
Click here to subscribe to the YouTube Channel!
Event Staff
While I, @Stanpai, am the head coordinator of the Newgrounds Summer Fest, there are also a number of stellar volunteers who will be helping to keep things flowing smoothly throughout the weekend. I'd like to take this opportunity to introduce them.
First and foremost, the person I consider to be the second-in-command aboard this ship is our event's Assistant Coordinator, @LilSpook. LilSpook has been an invaluable team member ever since I first opened up the volunteer applications. If there's ever a situation with the event where you can't get a hold of me, your immediate next step should be to contact her.
Next up is @Nek0ai, who is heading up our after-hours 18+ content blocks on Friday and Saturday. A connoisseur of all things hentai, Nek0ai puts the master in the word– actually, nevermind. If your question pertains to the 18+ content block, you should keep an eye out for Nek0ai during the event.
Finally, I'd like to introduce our other three staffers: @ShalNG, @VideoGameKid and @Kekiiro. These three will be helping out during the event as general staff if you have any issues within the server or otherwise.
If, for any reason, you've filled out the registration form and do not receive your invitation to the Discord by Thursday, June 24th, contact any of our six staff members with your ID verification in hand and we will get you into the server.
Panel Schedule
At last, we are ready to reveal the panel schedule for the Newgrounds Summer Festival!
As the motto goes, the goal was to feature "everything by everyone", and I feel we have done a terrific job at covering a broad list of topics thanks to the gracious panelists who volunteered their time to present during the event. What I truly love about this panel list is getting the chance to not only connect with some familiar faces, but also get to know some lesser known Newgrounds members for the first time.

As you can see, we have a jam-packed weekend of content starting on Friday evening and continuing all the way into Sunday night. Panels will be separated by a 15 minute break in between to handle any necessary technical changes and allow a momentary break in the action. For further details about each panel, stay tuned for more information!
NG Sticker Giveaway
The gracious @Mabelma is back with another set of free sticker giveaways as part of the Newgrounds Summer Fest!
Three winners will be selected at random in this most glorious raffle.
Click here to sign up for the sticker raffle!
Gamedev Showcase
The Newgrounds Summer Festival is still accepting trailers for the Gamedev Showcase! We'll be showing off trailers from different games made by Newgrounds users! Whether it's slated for release on Newgrounds, mobile or elsewhere, this showcase is for your games. In addition, we may have time for a few short developer interviews where devs will get the chance to talk about their games. If that is something you'd like to do, be sure to let me know!
If you would like to submit your game for the showcase, fill out this form!
The Gamedev Showcase is taking place on Sunday, June 27th at 12pm EST, so don't miss it!


NG Summer Fest Art
The submissions to the #NGSummerFest2021 tag have filled my heart with joy. Amazing art pieces from artists of all backgrounds have filled the tag, and I'm so very happy to see everyone's creativity. As mentioned above, the art used in this update's banner and panel schedule was drawn by @prestigiogio, and was sourced from that very same tag! Here's a link to the original piece below.
As for everyone else, it's not too late to submit art for the event! I can't wait to see what awaits.
Remember that your art must be 1920 x 1080 to make it into rotating the wallpaper!
---
That concludes what may be the final update before the official kickoff of the first ever Newgrounds Summer Fest. Everyone has been hard at work in making this event a stellar show and I'm so incredibly proud of everyone's efforts. There are many fun surprises ahead, and I can't wait to share them all with you over the course of the event.
Until next time, this has been Stanpai. Thank you for reading. I'll see you at the Newgrounds Summer Fest!