------Quick Links-----
-----------------------------
---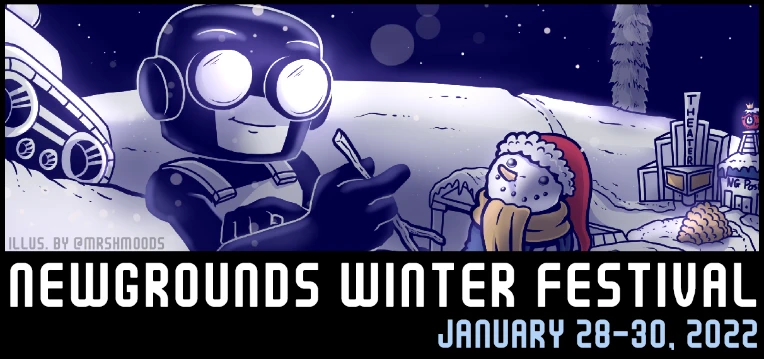 How do you do, fellow Newgrounders? Stanpai here with the first major update for the Newgrounds Winter Fest 2022.
Attendee Registration is Now Open!
The Newgrounds Winter Festival attendee registration form is now open, and that means you can formally sign up as an event attendee. Your invitation to the event Discord will be processed by one of our team members after verifying your information, so please keep an eye on your inbox!
As mentioned in previous updates, you must be 18 or older to gain access to the event Discord. Those who are unable to verify their age are still welcome to watch the public YouTube livestream.
If you attended the Newgrounds Summer Fest and already have server access, we ask that you only fill out the first page. This will help us track attendance.
Register for the Newgrounds Winter Festival Here!
NGWF Animation Project
Would you like to collaborate on an original animation to help promote the Newgrounds Winter Festival?
As the Summer Fest fast approached, an idea popped into my mind- what if we had our very own DAICON IV style animation? With this rather ambitious idea in place, I tempered realistic expectations around the production of a short cartoon to properly kick off the Summer Festival. The fruit of everyone's labor can be see in the NGSF Opening Animation, seen below!
An amalgamation of all things Newgrounds, I wanted to welcome our community to work together on this collaborative piece and deliver something totally bangin' for our attendees. I think we succeeded. Now that we're in the throes of planning Winter Fest, many have asked if we're doing another one.
The answer is YES- the opportunity for a Winter Fest animation is upon us.
The rules are the same as last time, please follow these instructions carefully:
Send me a DM to declare your interest with the subject "NGSF Animation - [Animator/Illustrator/Etc]" , and I'll review your existing body of work to see if it's a good fit. Creators of all ages are welcome to apply. What matters most is your existing portfolio of work, so show me what you've got!
Gamedev Showcase Registration Now Open!
Are you working on a video game and looking to get some eyes on your project? The Newgrounds Winter Festival is accepting applicants for our very own Gamedev Showcase. We're looking for titles that are far enough along to have a trailer or brief gameplay demo to be shown during the event. They can be web-based titles like you find here on Newgrounds or something with plans for a commercial release.
As for what games are applicable, we are welcoming applications for titles ranging across all potential age ratings, but said games must be compliant with Newgrounds and Discord terms of service. We are prioritizing working titles and not just conceptual prototypes, so please keep this in mind when applying. We also are welcoming games that have released relatively recently- if it came out in the last 6 months, you're clear for takeoff.
NSFW submissions are also welcome, but please note that games with prospective ratings of M or AO will require age verification. Games too mature for the main showcase will be showcased in a Discord-exclusive after-hours feature instead.
Click here to apply for the Gamedev Showcase!
Please note the Gamedev Showcase will only proceed if we receive enough qualified submissions.
Speaking of games, one particular rhythm game has maintained a firm hold on the Newgrounds community. We hope to have a space to feature some of the mods people have made for the title. Stay tuned for more information in a future update.
Panels & Special Events
If there's one thing we can say about the last festival, it's that we had an amazing weekend full of content. From guest panelists like @Ricepirate to the unforgettable concert by @PegasuTV, the panels are what truly make a convention great. Let's make it happen again- panel applications are open!
For those who are still unsure about what kind of panels to host, I suggest taking a look at some of your local conventions and perusing their schedules to get an idea of what sort of content gets submitted. You can also check out the NG Summer Fest panel schedule to see what we had last year. Bringing something fun to the table is what matters most, so if you're interested in participating, do not hesitate to fill out the panel application!
Note: You must be 18 years of age or older to host a panel.
Click here to fill out the Panel Application Form
The Panel Submission Deadline is January 7th.
Art & Assets
As always, we're still keeping an eye out for submissions to the #NGWinterFest2022 tag on the Art Portal. Remember to aim for a 1920 x 1080 canvas size to ensure it will fit into the rotation neatly! There's always a need for art to use in these update posts, so don't miss out on the chance to get yours featured!
Typically we'd be sourcing our banner art for this update from submissions to the tag, but it just so happens there's a little event going on RIGHT NOW on Newgrounds: the 2021 Tankmas ADVENTure! That's why this time around we have chosen to feature this dazzling piece from @MrShmoods, which you can unlock in the ADVENT!
Get this and more in the Tankmas ADVENTure 2021!
The lovely @Nek0ai has also illustrated a festive Tankgirl, so she's making a guest appearance in the footer image of this update.
Speaking of assets, did you know you can download your very own copy of the NG Winter Preloader from the site's Downloads section? Be sure to use it on your Flash based projects!
---
That's all for this update!
As always, if you have any questions or comments about the NG Winter Fest, direct them to myself or @LilSpook.