------Quick Links-----
-----------------------------
---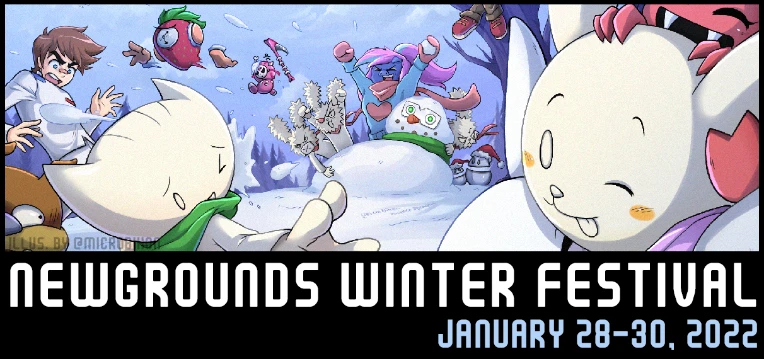 How do you do, fellow Newgrounders! Stanpai here with the next major update for the Newgrounds Winter Fest!
Panel Schedule
It's the moment you've all been waiting for! I proudly present the Newgrounds Winter Fest 2022 schedule!
All times are in EST (Newgrounds Standard Time).

We've got a killer lineup of guests and panelists this year, including @luis, @64bitsanimation, @masakoxtreme, @rina-chan, @kirbopher, @DOMROMART and @StrawberryClock. With a swathe of icons from old and new, we're extremely thrilled about the event schedule this year.
Additionally, we'll have @le-squidjerky and @MayaLaCookie hosting side events of Drawpile and Gartic Phone during the festival for some added fun.
As delineated by the light blue line, the NSFW content blocks will not be broadcast on YouTube, but you can bet our late night panelists will be bringing their A-Game— and by that I mean A-Rated.
Stream Links
Just as with the Summer Fest, all three days of the Winter Fest can be found on the Newgrounds Festivals YouTube channel!
Attendee Registration
For those who want access to the Discord server, be sure to fill out the attendee registration form!
All attendees for the server must be 18 years of age or older and have a Newgrounds account.
Once you have filled out your application, keep an eye on your Newgrounds inbox. @LilSpook will send out the invitation there. Invites can expire so check regularly. Also, please be patient— the applications are reviewed in the order they are received.
Click here to sign up for the Newgrounds Winter Fest!
Art & Assets
Before I talk about how you can get involved with your own art, let me give a HUGE shoutout to @MicroBihon for the absolutely KILLER art for the festival that was chosen for this update's banner!
Same as before, we're also accepting assets and art for use during the festival in two ways! The first is 1920x1080 Wallpapers which will be showcased all throughout the show in between panels. The second is through PNG character assets, some examples of which can be found below!
If you want YOUR art to be showcased in the festival, be sure to upload to the #NGWinterFest2022 tag on the Art Portal!
Event Staff
Your staff members for the Newgrounds Summer Fest 2022 are as follows!
If you have any need of assistance during the event, you can reach out to these team members for help.
---
That wraps up this update! Unless something pressing comes up, I don't think there will be any further updates to come. We'll see you live on January 28th!