------Quick Links-----
-----------------------------
---
Something Winter this way comes...
Hey everyone, Stanpai here!
This past summer, the Newgrounds community came together to bring you an incredible weekend of non-stop fun and edutainment under the banner of the Newgrounds Summer Festival. With so much community-driven awesomeness in the rear view mirror, it was only natural that people would ask what comes next. Today, I am proud to formally answer the question.
Introducing the Newgrounds Winter Festival!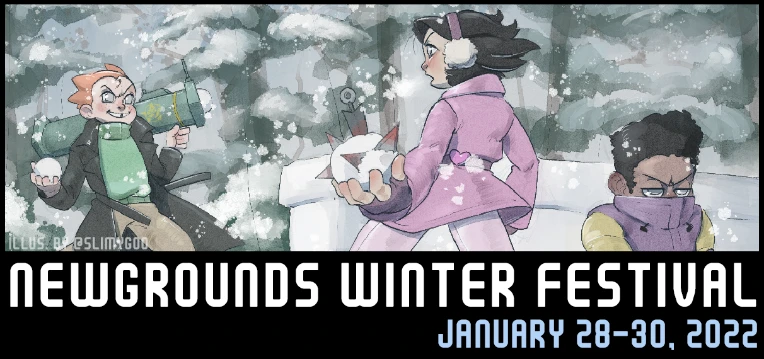 What is it?
The Newgrounds Winter Festival is a virtual event where attendees will be able to watch panels covering the various kinds of content available on Newgrounds, gain educational insights on the different mediums and disciplines featured on the site, learn about Newgrounds history and culture, and build up a greater relationship with the community. Just as with the Newgrounds Summer Festival, this is all about building an incredible weekend of networking, education, and most of all, fun.
How does it work?
The WinterFest will function almost identically to the Newgrounds Summer Fest: Panelists will be given their own timeslot to present their panels just like at a normal convention all throughout the weekend. In addition, there will also be spaces for attendees to network, share their work, play games and participate in various activities. The event will be coordinated via Discord, with SFW panels being broadcast via livestream on the Newgrounds Festivals YouTube Channel.
Panels
The main goal is to feature panels that cover any of the following categories:
Animation
Gamedev
Audio
Art
Newgrounds History & Culture
If you have a cool idea for a panel that covers content like this, or something you think is worth hosting a panel about, please do not hesitate to apply! Even if your panel idea doesn't cover one of the things listed above, that doesn't mean it can't still be put into the schedule!
If you're still unsure about what kind of panel you should host, or are in need of inspiration, check out the panel schedule from the Newgrounds Summer Fest!
If you would like to host a panel, please fill out the Panel Application Form.
Please Note: You must be 18 or older to host a panel at the Newgrounds Winter Fest.
When & Where
The Newgrounds Winter Festival is slated for January 28th - 30th on the Newgrounds Festivals Discord & YouTube Channel. We're giving everyone more than two full months worth of notice this time, so be sure to put the event on your calendar!
Registration & Attendance
If you would like to attend the Newgrounds Winter Fest, you have two ways to do so. The first is by joining the Discord server. Get your invitation by filling out our registration form.
Please keep in mind that access to the Discord server is exclusively for those 18 years of age or older. There are no exceptions to this rule. Age verification in the form of government issued ID is the standard way we confirm your age, though you are allowed to censor parts of your name, address or photo for your privacy.
Invitations to the Discord will be sent out by myself or my convention-coordinating partner in crime, @LilSpook. If you already signed up for the Newgrounds Summer Fest, please fill out the new form as well. If you attended the previous festival, please sign up and follow instructions in the form. Those who do not need an invite to the server will only need to submit their username. This helps us track attendance.
The second way to attend is by watching the YouTube stream during the weekend of the event. This stream is open to the general public and requires no formal registration.
Click here to subscribe to the Newgrounds Festivals YouTube Channel.


Getting Involved
Just like with the Newgrounds Summer Fest, I'll be heading up overall event coordination alongside the wonderful @LilSpook. That said, this event is more than just a tag-team effort between the two of us. That's where you come in.
There are a few ways you can get involved with the NG Winterfest:
If you would like to host a panel, please fill out the Panel Application Form.
If you would like to volunteer as event staff, please fill out the Staff Application Form.
Contribute Art for the Festival
If you upload something to the portal related to the event, tag it with #NGWinterFest2021. Whenever I build the promotional banners, I like to source the art from the community submissions, so be sure to keep that in mind as you upload— I may reach out asking to use it! We also had a rolling slideshow of everyone's art during the Summerfest and I would like to bring that back for Winterfest, so try to keep your art at 1920 x 1080 just to be safe!
As seen in this announcement, the event promo banner was once again handled by our beloved @Slimygoo. I hope he hosts another educational panel during the festival! If you'd also like to contribute creative assets for the event, such as promotional art or otherwise, please contact me directly here on Newgrounds. Be sure to include some examples of your work!
If you are interested in hosting some sort of contest or offering prize-support as part of the NGWF, please feel free to reach out via DM.
If you have any additional ideas or comments you'd like to share, please feel free to leave them in the forum thread or shoot me a DM!
Some important details:
Panelists must be 18 years of age or older.
Staff volunteers must be 18 years of age or older.
Due to the adult nature of Newgrounds humor and culture (see: Tankmen), direct access to the event's server will require age verification. SFW panels may be viewed by anyone via the external livestream. Thank you for your understanding.
Why are you doing this?
With a successful event now under our belt, we recognize the Newgrounds community has the eagerness and aptitude for another virtual convention. As for why virtual, particularly important to me is the ability to put on an event for the community that allows people from all over the world to attend no matter where they live. It is these experiences that lay down the foundation for incredible collaboration and networking opportunities for our incredibly talented Newgrounds community, and we would see that fire of creativity and camaraderie continue to burn strongly.
Just as Newgrounds is all about Everything by Everyone, so too is this event only possible through everyone's shared efforts. I'm absolutely thrilled we're hosting another one and cannot wait to see what everyone brings to the table.
---
That's all for now! Please be sure to leave your thoughts, comments and so on in the replies below! You may also reach out to myself or @LilSpook directly. I also suggest checking out the updates from the Summer Fest to gather more general information about the event.
Stay tuned for further updates and information in the coming weeks!
-Stanpai