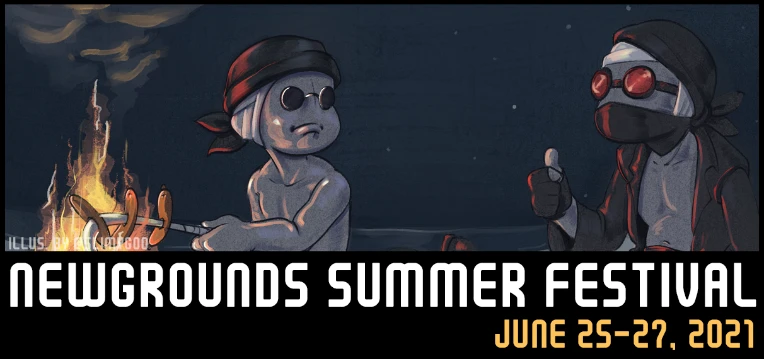 After 6 weeks of planning, production, and community effort, the NGSF brought an amazing weekend of fun in the virtual sun to the Newgrounds community. This 4th and final update for NGSF 2021 will serve as a post-mortem of sorts; a debrief to give you all a little bit of the aftermath and behind the scenes for making this event what it is, and of course, what it was.
The Idea
As mentioned in my original post about the NGSF, I've been working in the convention circuit for many years at various levels, starting with panels and working up to event staff in a number of different cons. With all that experience under my belt, I knew I wanted to host my own event online this year, but I wasn't sure where I should do it. It was after Pico Day that I knew the answer was Newgrounds.
I reached out to @TomFulp and proposed the idea for the Newgrounds Summer Fest. Much to my great pleasure, I received his blessing to move forward with the event. I believe this interaction with Tom is one of the most important facets of why I chose to bring this event to the Newgrounds community in the first place- unlike the people in charge at many other places, Tom has always been so very community-oriented, and always been one to encourage so many different amazing ideas from those people who inhabit our little corner of the internet. From here, I knew the event was going to have formal support for the site, so we needed to really bring our A game to live up to that level of support.
The Team
I have mentioned this here and there before, but initially, I was pretty much flying solo with the NGSF. I knew people who could help from outside of the community, but I didn't want to involve them. This was an event for Newgrounds, by Newgrounds. For this reason, I chose to source all talent from the NG members. I'm going to talk about that process a little bit in this section.
After the initial pitch to Tom, I talked about the festival with some of my peers. Among them was my wonderful paisan @Slimygoo. Slimy made the original art banner of Pico and friends used for Day 1 & Update 1 of the event, and he similarly also made the banner used at the top of this post. It felt more than appropriate to round out this event with his second piece of art that, until now, was not used for our promotional materials outside of the rotating art during the event. That it's a comfy weenie roast on the beach at night gives a nice finale to what was a cacophonous festival of fun.
Anyhoo, Update #1 was posted shortly thereafter with a call for potential volunteers for the event. A handful of wonderful people stepped forward, but one in particular stood out from the crowd. @LilSpook had a very impressive track record with the convention scene not so different from my own. What really caught me off guard was the overlap of events- I'd attended a number of cons that Spook had helped with in the past. I took this as a sure sign that this was the person I wanted to bring on first. It was from here that we got acquainted, and over time, worked more and more closely together on the planning side for the event. Spook essentially took over the onboarding process for registered attendees, and I cannot stress just how valuable she was as a partner in all of this. We make an awesome team and I'm so thankful to have had her apply so early on.
The Opening Animation
Almost worth overlapping the previous "The Team" section is something that took place in the weeks leading up to the event. That is, of course, the Opening Animation. Initially, this idea came to me as a novel idea of having our own version of the famous DAICON IV opening animation. I found myself compelled to take a stab at this crazy idea. If we failed, we would just let it disappear into the shadows. If we succeeded... well, I'll let the results speak for themselves.
The Opening Animation was without a doubt one of the best-kept secrets of the festival despite the fact that I publicly announced my interest in making it happen. I knew that this undertaking would be a bit crazy, so I wanted to created a decent spread between the upper and lower bounds of quality so we could finish this thing in just 5 weeks. For those curious, the lower-bound for quality was the 4chan 10th Anniversary Flash Cartoon, which I saw live at Anime Weekend Atlanta 2013 when it was first premiered to the crowd. Between the 4chan and Daicon animations, I knew we could achieve our goal. From there, we just needed to get the right people for the job.
28 amazing people contributed art and assets for the opening animation meant to kick off the entire event, and I am thrilled to say that they delivered. The animation itself was roughly boarded by myself, but the different styles shown in the production truly outlined the diversity of Newgrounds artists and animators. This cartoon is quintessential Newgrounds, and I'm so unbelievably proud of what we all created together. I cannot thank everyone who gave their all to this production enough, but I will make mention of one person in particular.
@KibbySupreme is an artist I scouted some months ago, pushing for her to make a Newgrounds account because her art kicks ass. Having known her for some time, I knew I wanted her on board for the opening animation, and as far as I'm concerned, she rose to the position of assistant director. Kibby provided color guides for the day and night scenes and was just a critical part of the process from the outset. If it wasn't me telling someone whether they were on the right track, it was Kibby. To top it all off, she masterfully handled the Nene vs Sasshole showdown. Thank you, Kib, for your part in what turned into one of the greatest sucker punches of the Summer Fest.
I also want to thank each and every person involved in making it. Gaze upon their names in all their glory.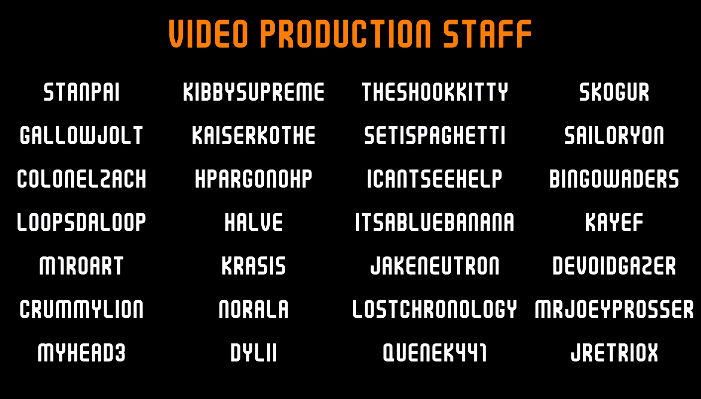 Of course, I must also thank @Rebellionslaught for creating the song that was used in the animation. Keep on rockin'!
The Event
Teaming up with a stellar team of volunteers and panelists, the Summer Fest kicked off with very few hitches. Admittedly, I had prepped a really really cool Endless Handbag transition that ended up getting lost in technical difficulties, but we ultimately had a great start to the event. Tom surprised everyone with that greeting video which then led to the opening animation. It was a one-two punch that set the pace for the entire weekend, and that energy was sustained for the entirety of the festival. The panel schedule was filled with golden experiences, and as the weekend pressed on, the attendees built those lasting friendships that I so greatly wanted to see built.
The NGP opened strong with a fun hangout show that afforded me a chance to finally eat some dinner and enjoy the show until the community panel. @Mike, @AlmightyHans and @Luis all chimed in with tales of Newgrounds past as we took calls from the audience to join in on the fun. A personal highlight for me was the Tails Gets Trolled panel, hosted by @Jenk3m. As the night pressed on, we tossed it over to the after-hours block. @Nek0ai was our resident head of degeneracy, with an amazing lineup of NSFW content for those old enough to participate. Dub that Hentai in particular was a knockout success, and another personal favorite.
Saturday started us off at noon with more than 12 hours of panel content. I won't go into the details of every panel, but I want to thank @TheGaboEfects for an AMAZING guide through Flipnote Studio despite us having to go through many hoops to get the tech-side of the panel going. So many incredible panels took place. A huge thanks to @RicePirate for continuing to be a force for good in the community no matter how much a superstar he becomes. He never forgot where home is. The night was rounded out with a legendary @Piconjo panel and more NSFW to round out the night.
The Gamedev Showcase kicked off Sunday's content with a menagerie of sick titles from the Newgrounds community. Sunday offered us some really amazing panels, but I think it was somewhat unanimous that @PegasuTV stole the show with an incredible Newgrounds concert live from Brazil. The concert touched my heart and everyone's funny bone. I couldn't have asked for a better way to round out the weekend with such a memorable event. Closing out the night was a Summer Animation Jams showcase from @BrandyBuizel & crew before we finally wrapped up with three hours of closing ceremonies. Everyone had the chance to call in and share their weekend memories before finally wrapping up with a heartfelt confession from teh g0d of teh pr0tal himself.
All in all, this weekend was an unforgettable ride that has never really come to an end, even now. The community banded together to make something truly amazing, and I'm so honored to have been steering the ship. Even now, as I write this, I'm in a voice call with a number of attendees over on the NGSF server. It truly has been a magical time.
The Future
With such a blowout weekend, people have been wondering what comes next for the Newgrounds Summer Festival. As we said during closing ceremonies, we're assessing the aftermath of the event and planning ahead, so the official answer is to stay tuned to my blog for future updates related to this specific brand of events. Beyond hosting entire festivals, we're still very much engaged in continuing to support this community with other people's events and additional content.
On July 7th I will be hosting a livestream that goes behind the scenes for the NGSF Opening Animation.
Round 2 of the Animation Jam will also be getting a special programming slot on July 24th, so stay tuned for news from @BrandyBuizel in the near future.
And of course, there are the routine VC's in the server that people continue to participate in. While the NGSF is over, the server is still very much alive. If you're 18 or older and have a NG account, you are welcome to apply for membership!
In Conclusion...
The Newgrounds Summer Fest would not be what it is without the support of the community. Thank you everyone for your involvement in making this event something to remember. Thank you, Tom, for giving us the spotlight in which to shine and for your greeting video that made it feel that much more official. Thank you to my staff team through the weekend and to our panelists who gave amazing content. Thank you to those who hosted side content and giveaways such as @le-squidjerky and @mabelma to keep attendees on the edge of their seat. Thank you, everyone, for making this place continue to be the greatest, most powerful community on the internet. Thank you, Newgrounds, for continuing to exist and bringing joy into the lives of so many creatives and fans across the world.
And lastly, thank you for reading.
The Newgrounds Summer Festival truly was Everything by Everyone.
-Stanpai 🎩